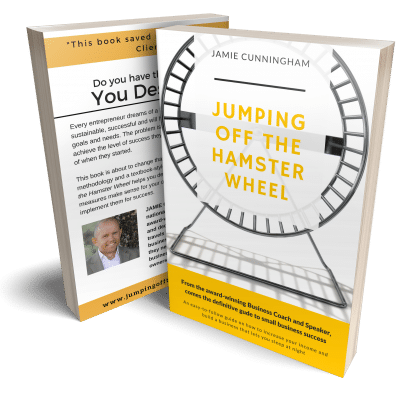 Every entrepreneur dreams of a business that is sustainable, successful and will help them meet their life goals and needs. The problem is, most businesses never achieve the level of success they knew they were capable of when they started.
This book is about to change that. With easy to understand methodology and a textbook-style approach, Jumping off the Hamster Wheel helps you decide which critical business measures make sense for your organization, and helps you implement them for success.
Here's what's inside:
Learn what the Hamster Wheel is, and why it's damaging your potential
The 8 primary principles of business that underpin every aspect of your business
The 3 levels of business growth, and how to determine where you sit
Money: A step-by-step guide on how to improve cash flow and profit
The exclusive Marketing Blueprint that will change your results
A primer on good planning, with instructions
How to manage the time choices that impact operations
The 5 P's of People that will leave you with an "A" team, no matter what your budget
Exclusive access to the tools and resources you need to execute the strategies within
Reviews for Jumping off the Hamster Wheel
Coming Soon
Join the 700+ Entrepreneurs who have already discovered the secret to a better business...
Sign up for our Business Nutrition Newsletter and Get FREE tips and tools to ensure your business is healthy, progressive and ready to compete.